Patient - Month Starts with Primary Payor Membership in Prior 12 Months
24 Apr 2023

1 Minute to read
Patient - Month Starts with Primary Payor Membership in Prior 12 Months
Updated on 24 Apr 2023

1 Minute to read
---
Share feedback
Thanks for sharing your feedback!
Object Description
For each continuous primary payor membership episode, one record per calendar month start ("reference date") in which some part of the given membership episode overlapped with the 12 months ending on the reference date. Membership episodes are left-truncated to start at most a year prior to the start of each reference date and right-truncated to end on that same reference date, at the latest. Note that a patient with multiple membership episodes might have multiple records with the same reference date.
Metadata
Table Name: ursa.so_ursa_core_pat_011
Layer: Synthetic Object
Object Type: Single Stack
Temporal Class: Event
Case ID: Patient ID, Episode ID, Reference Date
Event Date: Reference Date
Primary Key: Patient ID, Episode ID, Reference Date
Relational Diagram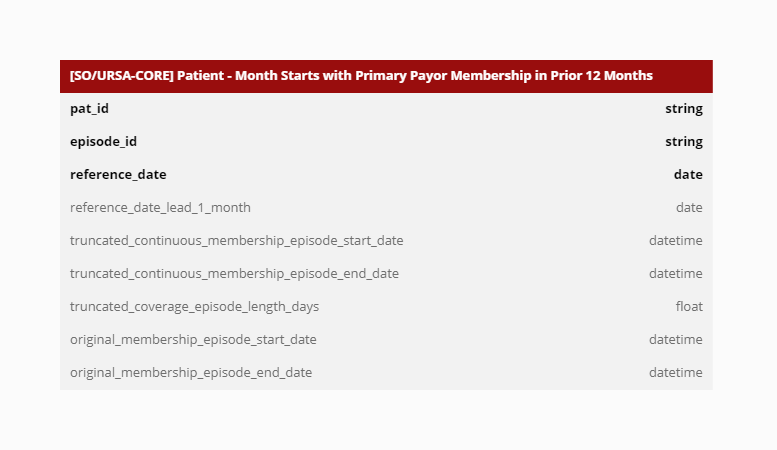 Related Key Concepts
None.
Dedicated Precursors
None.
FAQs
None.
---
Was this article helpful?
---
What's Next